About Axus
Our ever-expanding portfolio of products is comprised of high quality, professional decorating tools and accessories that cover the span of a project, from protection to clean-up.
About Us
Since 1974 we have run a decorator's merchants in North West London, and through five decades we have collected suggestions from thousands of decorators. We discovered a high demand for superior products and we wanted to pioneer change. So we evaluated those opinions, extensively studied weaknesses of existing products on the market, and finally curated the Axus Décor range.
We've always had a desire to have the best products on the market; back then and now, so we follow a protocol which facilitates that. We are passionate about creating products that lead to better results, faster, whilst also being more enjoyable to use.
To patent or not to patent?
Despite having invented several unique products, we've not actually protected them by law. Some might think we're crazy, but the knowledge that our product can be copied is in fact a driving force behind our next innovation; we continuously work on creating even better products to ensure that we are always one (or several) steps ahead of the competion. With a patent, we'd all be a bit more relaxed, and no-one would like that!
More than half of our employees have worked behind a counter talking to decorators, so we think we have a good understanding of decorator's needs.
R&D
We follow a process that ensures that the product we sell, will sell
Creation
Feedback
Ax Test Panel
#designedbydecorators
Axus Décor was born out of the suggestions of decorators, and in 2019 we formalised the way in which we collect and process these valuable opinions, by creating the Ax Test Panel. This panel consists of a demographically diverse selection of decorators that leave reviews after they've tried out a product, which we then pass on to our product development team. Though not always possible, we will try to use the data that we collect to tailor our product range according to the likes and dislikes of decorators.
We're periodically looking for new members to join our Test Panel, and we normally ask our users who have been leaving detailed reviews on our products via our website or Instagram. To have a chance of being a part of it, leave a review now!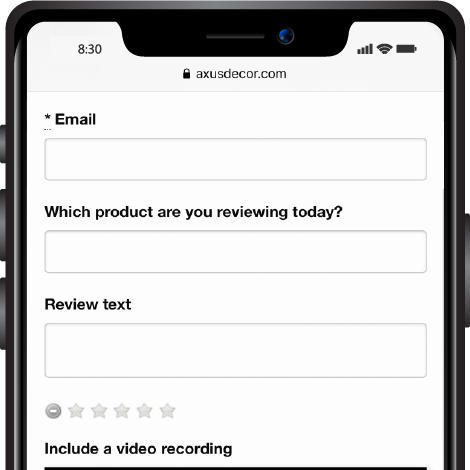 All new products feature a QR code on the back of the packaging that you can scan to leave an instant review. Keep an eye out!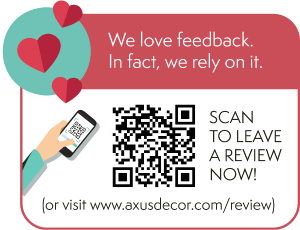 Stockist Network
Over 1000 stockists in the UK and Ireland
Our products wouldn't properly reach the trade without the network of specialist stores that effectively distribute the Axus Décor and OLFA ranges.
If you're looking for a stockist near you, see our Stockist Finder.
If you're responsible for a business that supplies decorating materials and you'd like to stock Axus Décor and OLFA products, the please get in touch.
Sustainabilty
We're a third generation family business with substantial concern for the future planet that our children will live in. Naturally, this drives us to act responsibly towards the environment, with an ambition to make packaging more eco-friendly, encourage reusable products over disposable ones and educate consumers on the advantages of using products made with FSC® certifi ed timber. In addition, it is on our agenda to also improve social and economic sustainability.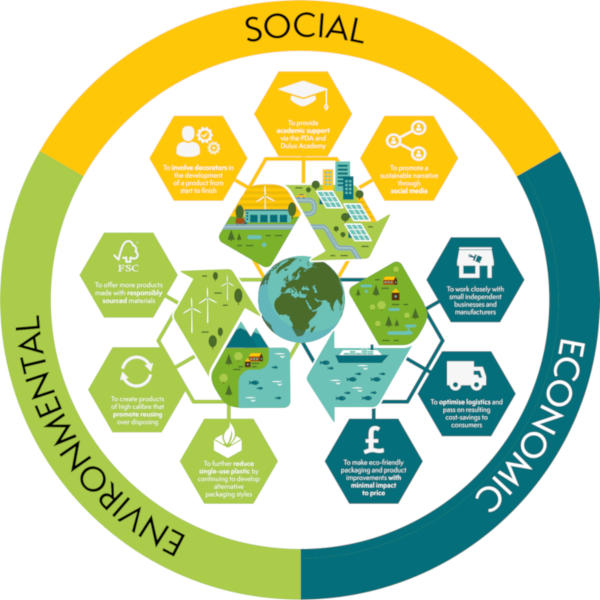 Friends of Axus Decor
We're proud to support an organisation that continually strives to improve the image of the painting and decorating sector. The PDA code of practice ensures that its members demonstrate their commitment to professional, quality workmanship and fair practice.
As the UK's largest trade and employers' Association in the painting and decorating industry, the PDA has members across the length and breadth of the country, and has been committed to encouraging best practice across the industry since 1894.
Find out more about the PDA at https://paintingdecoratingassociation.co.uk
Olfa
The name OLFA comes from two Japanese words, which, when translated, mean "to break a blade". The OLFA parallelogram logo is taken from the shape of a snap-off blade.
In 1956 Mr. Yoshio Okada, the founder of OLFA, invented the world's first snap-off blade cutter. The inspiration for this incredible idea came from breaking off segments of chocolate bars and analysing the snapped edges of broken glass. This unique invention has since become a worldwide best seller.

OLFA blades are made with top quality materials, forged with technologies that stem from traditional sword-making, sharpened with technologies that give a blade life, and ultimately finished with the craftsmanship that brings all of this together. All handles are perfectly optimised to achieve the full cutting performance of these high quality blades. They are designed, developed and manufactured in Japan, passing stringent quality checks throughout the process.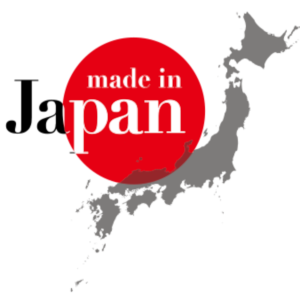 Any products with the given symbol are guaranteed to be free from defects in materials and workmanship for the lifetime of the product, or we will replace them, subject to availability. Improperly used products and replaceable blades are not covered.
---
SIGN UP TO OUR UPDATES
New Product Information - Events - Advice - Competitions