S-Finish Double Core Mini Roller (Grey Series)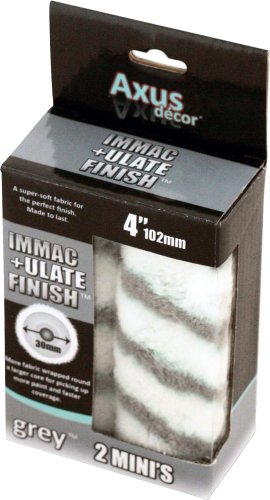 These mini sleeves are made with a soft fabric leaves a perfect finish.
It's high absorbency picks up a large amount of paint, which means more coverage with each load. The fabric is incredibly durable, which means you can wash and re-use the sleeves countless times. The PLUS+ version has a larger core than a conventional mini roller sleeve, which means twice as much fabric can be wrapped around it for picking up double the amount paint. These sleeves will fit onto Axus Decor Immaculate Mini or Awkward Reach frames or similar.
Incredibly durable fabric
Ultra absorbent for fast coverage of walls and ceilings
Large core means more fabric can be wrapped around it for picking up more paint and even faster coverage
Soft fabric leaves a perfect finish
Easy to clean
Re-use countless times
Made to last
Sleeves will fit onto Axus Decor IMMACULATE MINI or AWKWARD REACH frames or similar
Wash before first use
| Code | Size | Barcode | |
| --- | --- | --- | --- |
| AXU/RG4L2 | 5" / 125mm, Twin Pack | 5060128795214 | Pack 6 / Case 12 |